Cleats are essential for proper sports performance in soccer and other sports such as football and baseball, but they also lack support.  Many athletes who begin training in their cleats also experience foot pain and fatigue.  Adding insoles to your soccer cleats can be a game changer. The added support is a great way to improve performance and help prevent injury and relieve pain.  Using insoles in cleats helps to reduce stress on the feet, ankles and knees.  The result is an optimized performance and so you can be at your best for every game. Here are the best insoles for soccer cleats.
1. Superfeet Carbon
Superfeet is nationally known by podiatrists and physical therapists as one of the best over the counter insoles available. The Carbon is Supefeet's thinnest insole and it fits well in low volume athletic footwear such as cleats. They are made with a durable EVOLyte™ carbon fiber cap which provides structure and stability to the foam layer. The heel cup is designed to help position the soft heel tissue to help it naturally absorb impact. These insoles take up considerably less space than the other Superfeet insoles.
Superfeet originated in 1977 as the Sports Medicine Division of the Northwest Podiatric Laboratory. The proprietary Superfeet shape is designed to adapt the generic 2-dimensional surface inside your footwear to your 3-dimensional foot. Superfeet stand behind their insoles and want you to give them a try. They are so certain they can improve your game and life that they have a 60 day money back guarantee if you are not satisfied.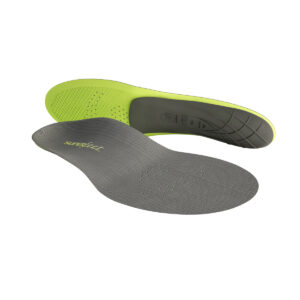 2. Form Ultra Thin
The Form Ultra-thin Premium Moldable insoles are one of the few over the counter inserts that are heat moldable to your arch and foot. The moldable base of Form insoles provides a custom fit that molds to your unique foot shape. The heel cup will help improve stability during sports because it is designed to stabilize the heel and position it to absorb impact properly. The Temperweave™ top layer fabric helps to control moisture and odor causing bacteria which is an excellent feature for sweaty soccer feet.
There are two ways to customize the Form insoles. The insoles can be heat molded in the oven and will mold to your specific arch shape within just a few minutes. Or they can be worn right out of the box and will heat mold to your feet within a few days of normal wear (or a few soccer games.) If you are unsure which brand of insoles will work best for you, then you may want to take advantage of the 100 day Form Fit guarantee. This guarantee has no hassles and no loopholes to make sure you love your Form insoles.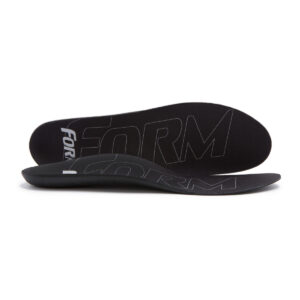 3. Superfeet Easyfit ¾ Insoles
If a full length insole will not fit into your cleats, then the Superfeet Easyfit is an excellent option. This ¾ insole fits well with the existing liner in the cleat and can be placed right on top of that liner. These insoles are gender specific and have a different design for men and women. The heel cup on the women's insole is much narrower than the men's because women often have a narrower heel than men do.
The patented orthotic design of this insole hugs the arch and cradles the heel to reduce stress on the arch. The slip resistant ridges will help to anchor the insole within the cleat to keep it in its proper place beneath the foot. And this insole also comes with that Superfeet 60 day guarantee!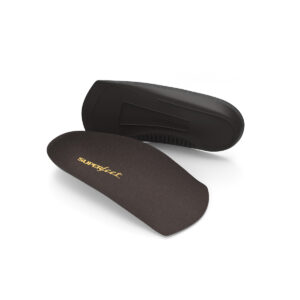 4. FootHealth Everyday ¾ Insoles
The FootHeath Everyday insole is one of the thinnest insoles available and adds subtle support and comfort to a soccer cleat. These insoles are designed with an excellent metatarsal pad, which can be the key feature when trying to relieve pain the ball of the foot. These insoles are an excellent option if you suffer from metatarsalgia or a neuroma.
The EveryDay is a semi-rigid arch support which is a good option for any arch type. They are so thin they barely add any volume within the shoe which make them ideal for cleats. They are one of the few insoles still designed with a genuine leather top-cover for comfort. The small adhesive pad beneath the insole will help it to stay in the proper place in your cleats.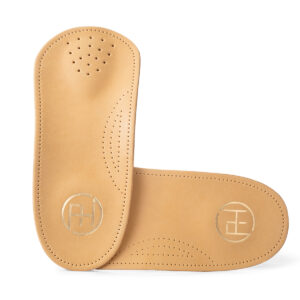 This concludes the list of the best inserts for soccer cleats. These insoles will also provide optimal arch support in football cleats, baseball cleats, and rugby cleats. If our choices are not quite right for you there are other options as well. Check out the complete selection of insoles for cleats on the insoles.com website. Or if you still have questions about soccer cleat insoles, continue reading our FAQ below.
The Best Insoles for Soccer Cleats FAQ
Q. How do I know which one of the soccer insoles is best for me?
A. The best way to determine which insole is for you is by how it feels. Your arch type and arch length need to match with the insole properly for it to be the most comfortable and effective. Most people know whether or not an insole is right for them from the moment they put it in the shoe. Also take note of the comfort level while the insole is in your cleats and under your foot while you are playing soccer. Sometimes you must try a few different brands to find the one best for your foot.
Q. Can I use my custom orthotics in my cleats?
A. This depends on what type of custom orthotic you have. If your orthotic is very thin or ¾ length there is a possibility it will work, but often custom orthotics are too bulky for cleats. Using over-the counter insoles and orthotics for soccer cleats is an excellent alternative for most athletes.
Q. How do I know if the insoles I choose will fit in my cleats?
A. If your cleats have a removable liner, you will have the most options for an insole that will fit well. If they do not have a removable liner, a full-length insole will probably still fit if you choose from the list above. However, if the full-length insole makes the cleats too tight you should probably choose a ¾ length insole.
Q. Are gel insoles good for cleats?
A. Not usually. Generally it is not good to use an insole that is soft and squishy. Even though they may feel good for a moment they lack support. They cannot hold their shape and do not provide adequate arch support in high intensity impact sports such as soccer.
Q. What are the best cleat insoles for heel pain?
A. There are a few good options. If you are looking for soccer cleat inserts for heel pain, it is important to choose an insole that has a deep heel cup in order to cradle and stabilize the heel in the shoe.  Most of the soccer insoles on the above list have a deep heel cup an would be a good choice if you have heel pain.
Q. Which insoles are the best for the pain in my forefoot?
A.     If you have pain the ball of the foot, choose an insole that has a metatarsal pad to help relieve forefoot pain and discomfort. The FootHealth ¾ insole (#4 listed above) has a great metatarsal pad and may be the perfect option for your soccer cleats.
Q. How long will my cleat insoles last?
A. It depends on how much you use them. Check out our post on "How Long Do Insoles Last?" for more info.