What are the Best Insoles for Tight Fitting Shoes?
Looking for insoles that will fit in your tight shoes? This is a question that is asked frequently, and we have some great options for you! Arch supports can greatly improve the comfort of a shoe, especially in flat shoes that don't have any support. Hopefully these tips and insole recommendations will help you to have happy, comfy feet all day long!
When your shoe does not have much room for an insert it is usually best to find an insole that is ¾ length. These inserts will support your arch while taking up minimal room in the footwear. When your shoes are already tight it is important to leave as much room as possible for your toes. ¾ insoles help with this by leaving that much needed room in the toe box of the shoe. Another benefit of a three-quarter insole is that they can be added to your shoe without needing to take something else out of it. In other words, your shoe does not need to have a removable liner in order to fit the insert in it.
So many people get relief from foot pain, achy feet and general foot fatigue by simply adding good quality insoles to their shoes. Most prefer a full-length orthotic in their athletic shoes for maximum support and cushion, but these insoles are often too bulky for every day casual footwear. So what are the best insoles for tight fitting shoes? Below are some options to improve the comfort of your tight-fitting footwear. The insoles listed in the post will most likely fit in tight-fitting dress and casual shoes, fashion boots, winter boots, and cleats.
Comfortable Insoles for Every Day Casual and Dress Shoes
Superfeet Everyday Women's ¾ and Superfeet Everyday Men's ¾
These insoles are perfect for everyday casual shoes and for slim fitting dress shoes. The Everyday is Superfeet's premium comfort insole, designed with a memory foam layer over a firm, thin and narrow arch support. They easily slip into tight fitting dress shoes or casual shoes and will cradle the arch with all day support. This insole is the narrowest option we have listed. Some Superfeet fans will notice that this is the exact same insole as the Superfeet GO (it was renamed in 2019.) The price point of this insert is a bit higher than some other ¾ arch supports, but the added comfort provided by the memory foam layer makes it worth it.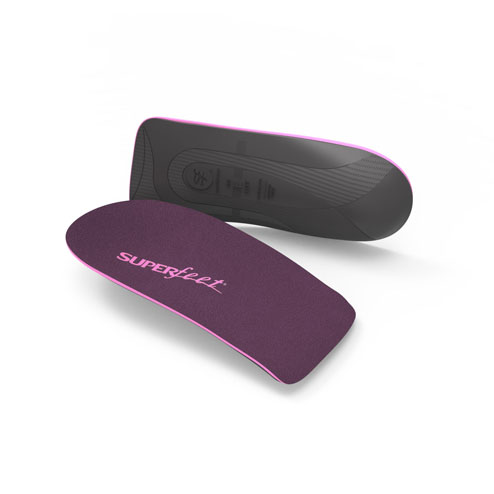 Thin Insoles with Metatarsal Pads
FootHealth EveryDay ¾ (with Met Pad)
This design of this insole is excellent for the tight-fitting shoe. It is one of the thinnest insole options and will fit into almost every type of footwear. It is designed with a genuine leather top-cover and adds some support beneath the arch and a metatarsal pad beneath the ball of the foot. This insole is primarily accommodative to reduce foot and arch fatigue, meaning it will not reposition the foot in the shoe, but it will provide some support. The metatarsal pad on these inserts can reduce pain in the ball off the foot and is generally suggested for use by those with metatarsalgia or neuroma. There is also a small adhesive strip on the back for those who would like to secure it in their shoe. Similar insole designs are also made by Pedag, Tacco and Four Seasons.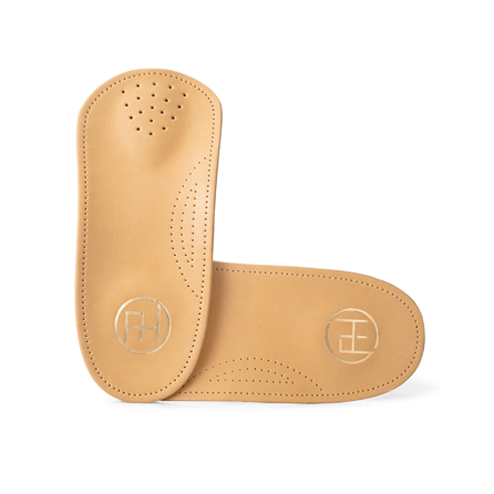 Affordable Insoles for Casual and Dress
Superfeet Easyfit Women's ¾ and Superfeet Easyfit Men's ¾
The "Easyfit" is properly named because it will easily fit into almost any shoe.  The design is slightly wider than the Superfeet Everyday but it is still usually a great fit in tight fitting shoes.  The deep heel cup allows for it to stay positioned beneath the foot without sliding forward.  One great benefit of this insert is the price point, which is lower than all other insoles made by Superfeet.  This is probably the best choice for high arches.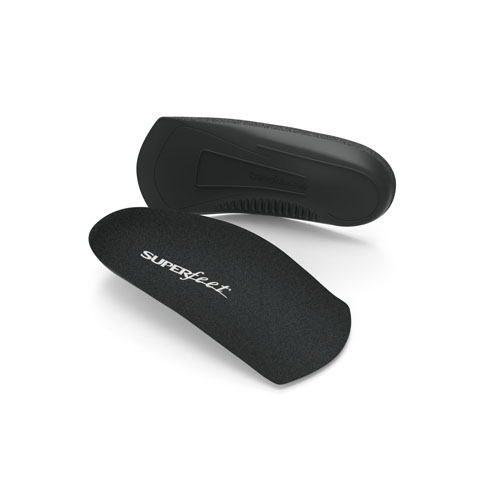 What About Insoles for High Heels?
Superfeet Everyday High Heel Insole and Superfeet Easyfit High Heel Insoles
The best arch supports or inserts for high heels have a slightly different shape than a regular insole.  The insoles follow the pitch of the shoe.  Superfeet has designed slim inserts specifically for high heels and shoes with a heel of the height of 1 inch or greater.  These insoles will reduce the stress on the arch while wearing heeled shoes. The Superfeet Everyday is the slimmest and has a memory foam top cover for added comfort within the shoe.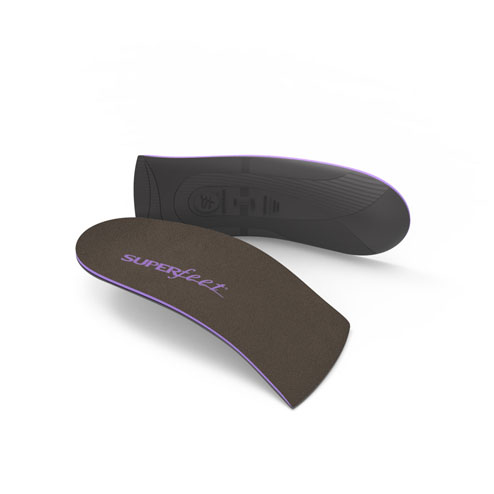 Are Gel Inserts a Good Option?
There are differing opinions on this. I endeavor to avoid gel beneath the feet because of support and stability issues. Often people with arch fatigue or foot pain will opt for a soft, cushioned squishy gel insert. These may add slight comfort to a shoe for a short time but often they break down quickly and don't provide much support in the arch. Because they are squishy, they can contribute to instability. The benefits of an firmer insert with more stability built in can usually be felt immediately. It provides support for the foot rather than simply placing a cushion beneath it. For those who need some cushion in their shoe along with arch supports, the Superfeet Everyday ¾ is one of the best options because there is a firm base for support beneath the memory foam cover.
Other Options
Have an insole that works great for your tight fitting shoes but didn't make our cut? Please let us know in the comments below! Wondering if you need customs? Here's some info to help you decide: Do You Need Custom Insoles?